SPS-Steuerung einzigen Platte Vulkanisierpresse Maschine
T seine einzige Vulkanisierpresse Maschine gilt für die Kompression und Formen von Gummi, Kunststoffen, Harzen und anderen Polymermaterialien. Die Platte Vulkanisierpresse mit einem programmierbaren LCD ausgestattet, der Druck, Temperatur, Zeit, Frequenz und anstrengende die Anzahl der Sekunden mit Mensch-Maschine - Schnittstellenbetriebssystem einstellen.
Parameter:
Capacity

50/80/100/150T (optional)

Temperature range

Normal temperature ~ 300 ℃

Pressing plate size

300 X 300/350 X 350/400 X 400/450 X 450/500 X 500/

550 X 550 mm

Distance of pressing plate

100 mm

Exhausting frequency
0 ~ 10 times can be set

Oil pressure medium

Mobil 32# antfreeze hydraulic oil

Power supply

3 ∮, five lines
Spezifikation:
1.Controller: SPS-programmierbarer Farb-Touchscreen Mensch-Maschine-Schnittstelle. Alle Betriebsparameter kann nach Belieben eingestellt und gesteuert werden. Formpressen Prozess- und Vulkanisationskurve können angezeigt werden dynamisch.
2.Heating Methode: Electro-Thermorohr
3.Cooling Methode: Leitungswasser Kühl
4.Working Schicht: Zwei Schichten. Die obere Düsenplattenheizung, die untere Düsenplatte kühlt ab.
5. Öl druck system: Das Regelsystem in keinem Verhältnis hydraulischen Strömungsventil mit den Funktionen der automatischen Kompensation und der Zeitverzögerung Stoppen des Kraftstofftanks.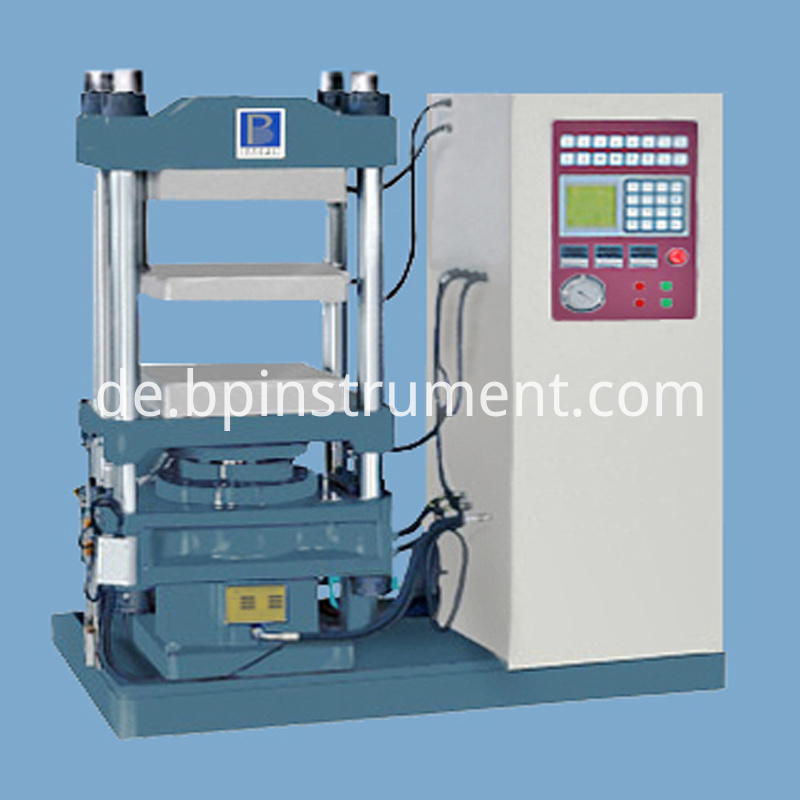 Produktgruppe : Labortafel-Serie