SPS-Desktop kleiner Einschneckenextruder
Desktop kleine Einschneckenextruder eqiuipped mit SPS - Steuerung können alle Parameter festgelegt und überwacht werden .
The small plsatic single screw extruder is suitable for polymer processing molding, especially for a small amount of samples for scientific research and development, to simulate the plastic processing of various aspects of continuous and discontinuous process, especially suitable for the teaching and research and development.
Der Desktop - Kunststoff Einschneckenextruder ist klein und praktisch, es ist die beste Wahl für Labortest und Produktion in kleinem Maßstab.
Parameter:
| | |
| --- | --- |
| Screw diameter | 20 |
| Length diameter ratio | 1:25 |
| Screw speed | 0 - 90 rpm frequency control |
| Power supply | 3 ∮, 50 Hz, 5 lines |
Spezifikation:
1. Schraube / barrel Material: M ade von 38CrMoAl Chrom-Molybdän - Stahl.
2. Heizungszone: Vier Glimmer Heizungen sind im Bereich Laufe des Aufladens, ist ein Heizelement in dem Handbereich. Jeder Bereich hat einen Kupferkühler, der mit Sicherheitswindschutz bedeckt ist.
3. Kühlanlage: Drei Gruppen von mehreren Flügel Fans leise Luft zu kühlen und zu stark.
4. Antriebssystem: Präzisionsuntersetzungsmotor und Verzögerungsdrehung Verteilungsintegrations.
5.Electric Steuerung: PLC programmierbarer Farb Touchscreen, Mensch-Maschine - Schnittstellenbetriebssystem.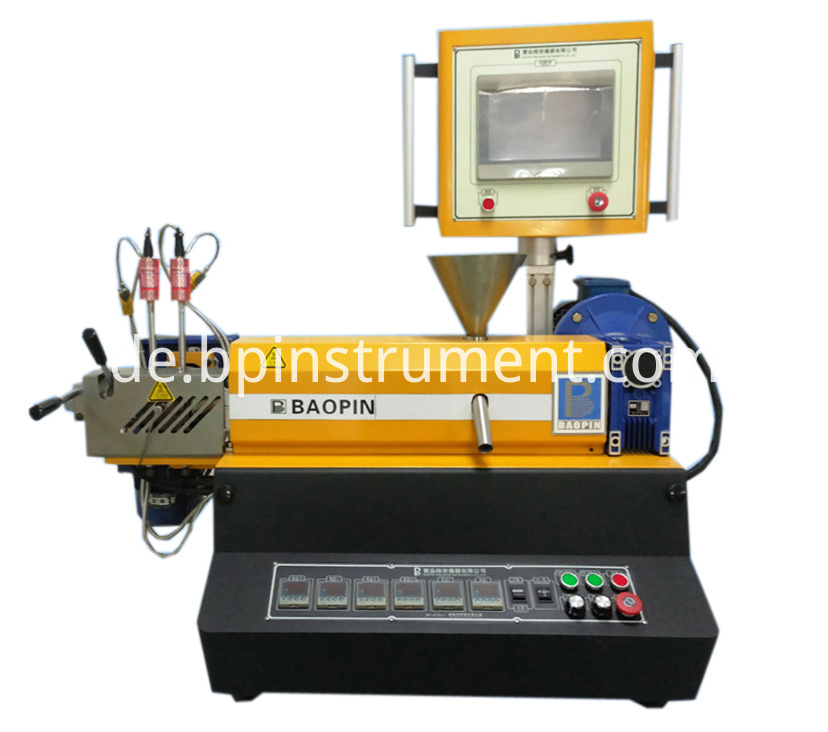 Produktgruppe : Lab Extruder Serie